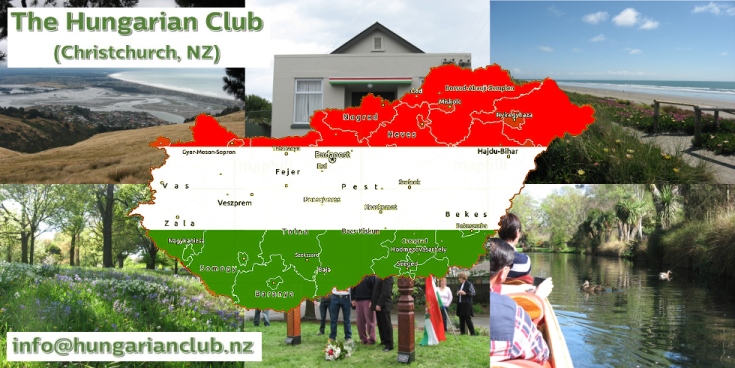 Who are we?
We are the Hungarian community and friends. We are people who were born in Hungary, descended from Hungarians, or just interested in Hungarian culture.
Kik vagyunk?
Mi vagyunk a Christchurch-i magyar közösség. Néhányan Magyarországon születettünk, magyar származásúak vagyunk, vagy kötődünk a magyar kultúrához.
What do we do?
We gather to talk (in English and Hungarian), to eat, to celebrate, to remember, to watch Hungarian films, to learn Hungarian language, to dance, and to share our culture. Here are some highlights from 2013-2018.
Mit csinálunk?
Összegyűlünk, hogy beszélgessünk (magyarul és angolul), együnk, ünnepeljünk, emlékezzünk, magyar filmeket nézzünk, magyar nyelvet tanuljunk, táncoljunk, és megosszuk kultúránkat egymással és másokkal.
What's On?
2019
With the Level 2 alert announced on 21 March requiring people over 70 years of age and people with underlying respiratory conditions should self-isolate, the committee will be cancelling all planned events, activities on the calendar and postponing the clubs AGM until further notice. They will also be closing the Hungarian Club Hall until further notice to keep everyone as safe as possible.
Aktualitások

A klubház további értesítésig zárva van.

Minden vasárnap, 13.00
Találkozunk, hogy beszélgessünk vagy biliárdozzunk
Minden hónap első vasárnapján
Nyitott ház 13-15 óra, között tudsz velünk beszélgetni.
Hungarian Club Committee 2019-2020
President
Tibor Csik
Vice President
Steven Toth
Secretary
Gyöngyvér Ferencz
Treasurer
Enikő Vicsai
Committee Members
Sophie Papanek
Gábor Vass
Magyar Klub Intézőbizottsága 2019-2020
Elnök
Csik Tibor
Alelnök
Tóth István
Titkár
Ferencz Gyöngyvér
Pénztáros
Vicsai Enikő
Tagok
Papanek Zsófia
Vass Gábor
How to Join:
You can email us and we will send you the form and bank account number. Or you can come to an event at the club house and join there.
The subscription for a year is $40 and this entitles you to discount at many of our events.
Hogy léphet be
Küldj egy e-mailt a klubbnak és elküldjük neked a kitöltendő nyomtatványt és a klubb bankszámla számát. De eljöhetsz bármelyik eseményre a klubban és ott is jelezheted csatlakozási szándékod.
Az éves tagsági díj 40 NZD, és ezzel jár sok kedvezmény a klubb eseményein.
Contact Us:
Address 11 Hardy Street, New Brighton, Christchurch
Or email us.
Kapcsolat
Cím 11 Hardy Street, New Brighton, Christchurch
Vagy küldj egy e-mailt.
Links:
Newsletters
Facebook
Other Links
| | |
| --- | --- |
| Embassy of Hungary, Wellington | Hungarian Embassy in Wellingon (including passports) |
| Keleti Pályaudvar | A Hungarian radio program broadcast from Christchurch |
| Debrecen Summer School | Immersion Hungarian language courses in Debrecen, Hungary. Two and four week courses July/August. Language classes during the day (9-3:30 Mon-Fri) with cultural activities and trips in the evenings and weekends. |
| Hungarian Word by Word | A Facebook page with some easy Hungarian language. |
Videos
Linkek:
Hírlevélek
Facebook
Egyéb Linkek
Videók